What are the biggest challenges faced by organizations and leaders?
Because stagnation is never an option for bold leaders, discover 3 major steps towards a successful transformation journey, with use cases from seasoned leaders within international organizations.
At Listen Léon we have created the Positive leaders club!
The club that engages us to be better leaders every day.
WELCOME.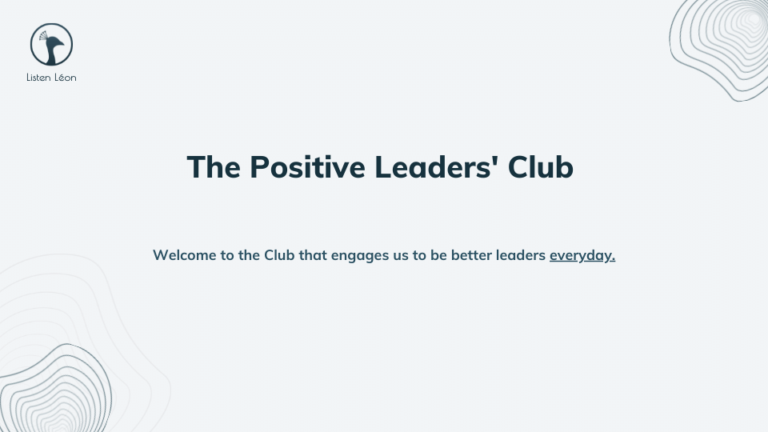 We have created this Positive Leader club to exchange between our incredible customers, openly with no taboo and even inspire other leaders.
Because it's not always easy to be a positive leader!
At Listen Léon we are lucking to be surrounded by inspiring leaders and we now want to share their return of experiences with you !
We strongly believe that if we gather all the positive leaders altogether, we can have a giant impact for a more positive and sustainable world!
For this new webinar, we had a very interesting talk about Leading Change.
It is essential in any company, to be able to implement change and keep up to date with market trends taking into account the human dimension, the values and the company's culture.
Change management is one such process that businesses use to bring change at multiple levels. In this webinar, we will discuss the change management process and provide 3 steps for implementing it in your own organization. Additionally, our experts will share their experiences and tips on how to communicate and make it easy for employees to accept and embrace change.
What's your biggest challenge as a leader when facing change?

Don't miss great insights from bold leaders !
If you are looking for concrete ideas to boost your transformation journey : Here is the replay.
Many questions arised around company transformation, such as "Why do companies transform? ", "What impact does the change have on its employees?"
How to conduct a successful transformation journey?
How to deal with complexity?
What are the biggest challenges leaders face when leading change?
Posture and communication of a new boss is always observed, feared even, especially in times of change. So, how to communicate when conducting a transformation process ? What is important to employees during this corporate transformation ?
To address those key issues we invinted incredible leaders.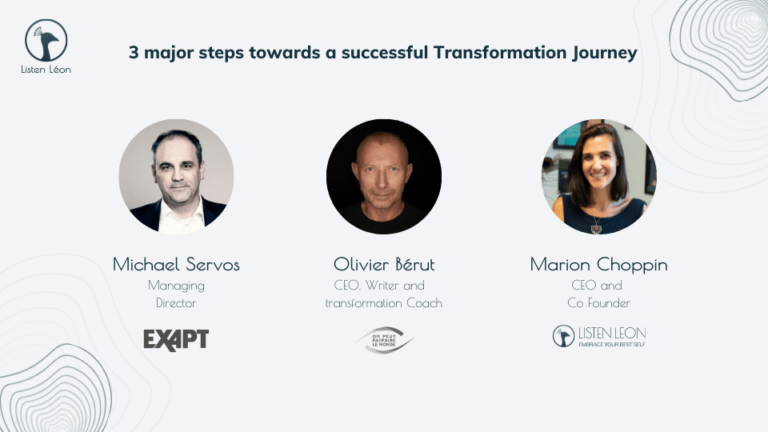 Mickael Servos for his incredible humility and vision, Mickael is the CEO of Expat, an incredible successful hight-tech company based in Germany, founded more than 50 years ago and now building the industry 4.0
Exapt is using Listen Léon since two years now.
Our second inspiring guest was Olivier Bérut. Olivier had more than fifteen years of managing teams (from 8 to 2 thousand people) in China and Europe and in various industries. He also founded a consulting firm to accompany and train leaders and their teams with tools he discovered during his time in the Orient and the US.
Mickael and Olivier didn't know each other so it was an interesting & authentic talk.
Our speakers answered questions such as : What is corporate change management? What are the biggest challenges they faced? How can we develop the best organizational change strategy and how to implement it? What posture and soft-skills should a manager have when proposing change?
Mickael answered all these questions we true authenticity :
How did he managed to do the change and transformation?
What are the steps to take when changing things or taking this kind of position?
What was his biggest challenge when taking the Managing Director position?
Mickael also gave us some tips to identify the talents of his team members.
If you help people find their signature strengths magic can happen.
And it has been demonstrated by Research.
Olivier insisted on the three major soft-skills ( or Human skills) needed to succeed : open communication, inspire trust and caring.
Olivier also explained that the more we loose sense, the more we organize! So don't try to fix evertyhing by organising everything ! Listen to your intuition.
---
In conclusion, here is what we've learned in this webinar.
As leaders, we need to be in a state of constant revolution. You don't make a change and then just sit back and wait for the next five years of business as usual. We need to build a new momentum and rhythm in our business that reflects the new reality of the industry in which you are operating.
The hardest part of a successful transformation journey is the cultural piece.
Some people will be taken a little outside their comfort zone, but that's OK, so long as you give them the permission to take small risks and fail quickly if they can.
Trust is a must.
Be authentic !
People don't trust what they don't understand, and this creates resistance. Leaders who seek to hide their own feelings and will erode trust. Leaders can enhance relationships by sharing their own challenges and experiences.
Authentic leaders are more likely to draw people in and begin a constructive cycle of openness and sharing that characterizes fulfilling relationships and successful change.
How to ?
VISION – Give sense. Share your vision, share your own challenges.
TRUST- Create trust. Motivate people by focusing on their talents.
STRENGTHS – Sparkle your inner soft-skills (open communication, authenticity, altruism).
Dare to care !
If you want to know more about Léon and how we help leaders when leading change contact us ! leon@listenleon.com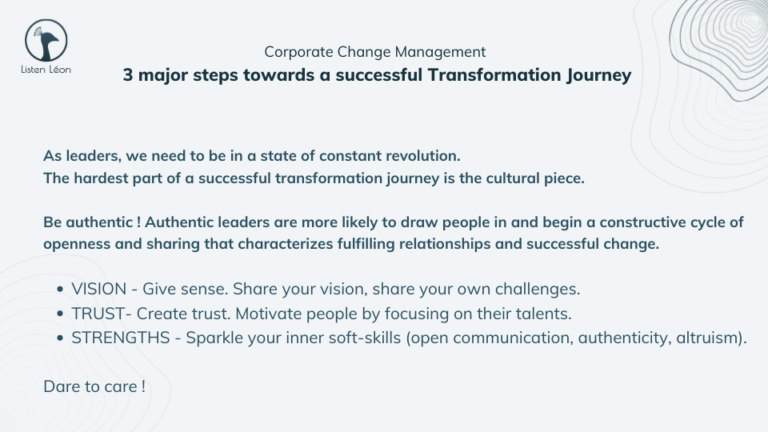 ---
About Mickael Servos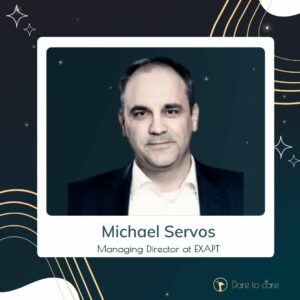 We were very happy to receive Michael Servos, current Managing Director of Exapt, who talked about his experience and the process he installed when he took this position back in 2016, using his leadership and dialogue skills.
Michael worked as a project manager for years, which helped him understand which values are important and what motivates employees. He mainly worked in Research Association Programming Languages for Manufacturing Facilities, focusing on coordination and implementation of research and industrial projects.
About Olivier Berut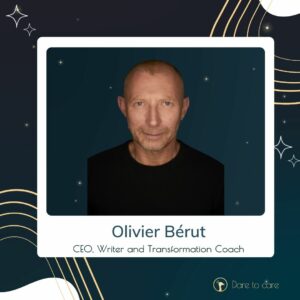 After more than fifteen years of managing teams (from 8 to 2,000 people) and companies (in China, Spain, Belgium and France) in two international groups (3 Suisses International and IDKIDS), @OlivierBérut founded a consulting firm Onpeutparfairelemonde, to accompany and train leaders and their teams. He relies on the tools he discovered during his time in the Orient (cooperation, living logic) and the USA (humanistic psychologies and creativity).
Olivier obtained, from Lille Place Tertiaire and the CCI of Hauts de France, the label of excellence, certifying the consultants of his region.
He has written books on management, the company as a living being and the transformation of organizations
Olivier is part of our community of trainer, his expertise is truly an asset for Listen Léon.
About Listen Léon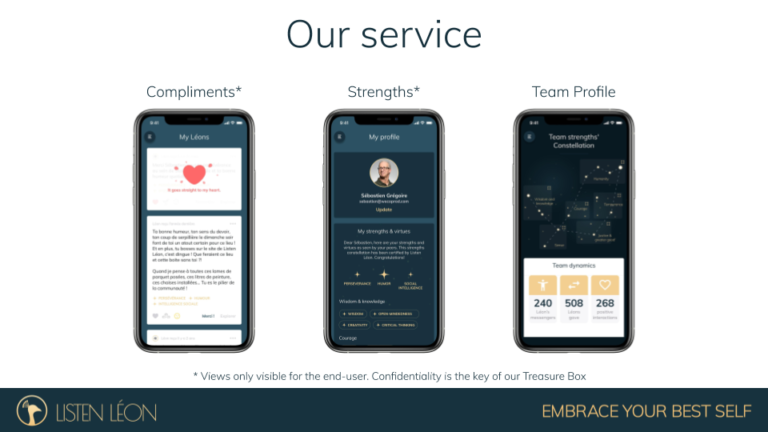 Listen Léon operates by encouraging employees to generate viral goodness by sending anonymous compliments. Listen Léon allows employees to experiment with the benefits of gratitude and recognition. Listen Léon maps, reveals and frees up employees' strengths and scales positive impact. This initiates a virtuous process where people lift one another with acknowledgment and recognition. Giving and receiving gratitude builds the foundations of a culture in which we are all elevated and gives the tools and confidence to blossom into the best versions of ourselves. It establishes the basis and dynamics for more humane and positively efficient societies.
Listen Léon offers an application (online service accessible via computer, smartphone, or tablet at https://app.listenleon.com) that :
allows sending and receiving anonymously positive testimonies between peers ;
analyses the content of the message with artificial intelligence to yield a strengths map to
each employee and at the whole organization level ;
uses statistics and gamification to leverage a frequent, perennial, and beneficial use of the service.
This technology for good is completed with a tailored accompaniment of inspirational letters, virtuous practice advice, webinars in order to :
provide a deep understanding of strength definition, implication, and positive impact ;
set in place routines and habits enhancing recognition behavior;
finding the adequate ways to most benefit individually and collectively from the process.